Key Features
No credit check
Up to 1.55% interest on savings over £1,000
Monzo Review
Introduction
Monzo was founded in London in 2015 as an attempt to simply make banking better. The recipe is simple and effective: Monzo offers young UK customers a proper current bank account (including sort code, banking license, and deposit security) without a credit check. All that is available in plain hours after application, without setting up a meeting and filling in any lengthy forms: there are no physical branches at all.
The banking with Monzo is done through a handy mobile app, and cheaper than a regular bank.
Today, Monzo claims to be the fastest growing UK bank, with over 2 million customers and about 40,000 new accounts being opened every week.
The British Bank Awards 2019 has named Monzo the Best Banking App.
The company is planning on opening operations in the US, and already collecting applications for a waiting list.
Debit Card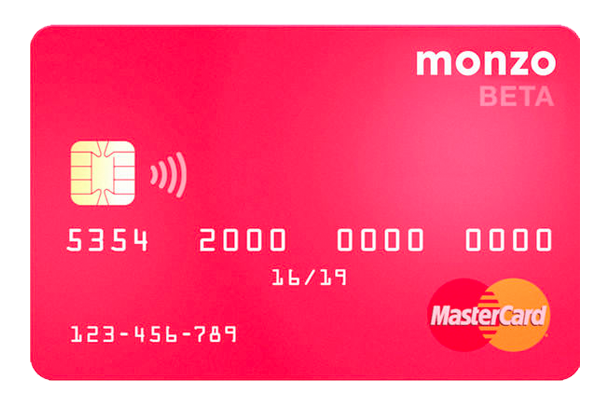 Plans
Free Account
Fees and charges apply
Banking Features
Monthly budgets
Set budgets and spending goals. Get an instant breakdown of your spending into 12 categories including groceries, shopping etc'.
Instant money transfers
Transfer money easily via bank transfers as well as within the app between the Monzo users. (In GBP, within UK). You can also transfer money internationally with TransferWise.
Monzo Saving Pots
Monzo offers a savings marketplace of 3rd party providers. You can choose the most suitable provider for your savings goals.
Round up transactions
For any transaction over £1, Monzo will round up to the nearest pound and put money aside into any savings pot.
Joint accounts
Joint accounts are available between two Monzo current account holders.
Split the bill
Split the bill in the app with anyone else using Monzo.
Apple Pay and Google Pay
Add Apple Pay or Google Pay to your Monzo account and enable contactless in-store payments.
In-app card control
Enable foreign payments, activate paying online, set limits for withdrawals and payments.
Monzo Account Types
Personal account types
Monzo's main offered account is the personal current account. Nowadays Monzo is working on launching two more accounts: Monzo Business and Monzo Plus, which require, for now, to join their waiting list to get approved.
| | |
| --- | --- |
| Feature | Monzo Current Account |
| Price per month | Free |
| Free ATM withdrawals (£) | ✓ |
| Free payments | ✓ |
| Google Pay & Apple Pay | ✓ |
| Free withdrawals worldwide | – |
| Insurance package | – |
| Dedicated Customer Support | – |
| Exclusive partner offers | – |
| Saving Pots | ✓ |
| Categorised spending | ✓ |
Monzo Current Account
Free ATM withdrawals (£)
Free payments
Google Pay & Apple Pay
Free withdrawals worldwide
Insurance package
Dedicated Customer Support
Exclusive partner offers
Saving Pots
Categorised spending
Business account types
(Upon joining a waiting list. Coming live in 2019)
Instant bank transfers and direct debits (International)
Connect accountancy tools direct to the Monzo app
Employees access
24/7 customer support over chat, email or phone
Set Tax and bills aside in Pots
Monzo Business
(Upon joining a waiting list)
Price per month
N/A
Free ATM withdrawals (£)
N/A
Free payments
N/A
Google Pay & Apple Pay

✓

Free withdrawals worldwide
N/A
Insurance package
N/A
Dedicated Customer Support

✓

Exclusive partner offers
N/A
Saving Pots

✓

Xero and FreeAgent tools

✓

Help with taxes
Coming soon
Categorised spending
Coming soon
Organised expenses
Coming soon
International payments
Coming soon
Batch payments
Coming soon
Payments with a link
Coming soon
Fees
Monzo charges smaller fees than a traditional bank, with many features offered free of charge. However, fees do still apply to some of the services.
| | |
| --- | --- |
| Type | Fee |
| Monzo foreign ATM cash withdrawals | Free up to a £200/month limit, 3% fee after |
| Monzo international transfer fee | £0.5-£3 |
| Currency exchange fee for international transfers | 0.35-2% of the exchanged amount depending on the currency |
| Overdraft fees | 50p/day starting from £20 overdraft and up |
Security
One of, if not the most important aspect of mobile banking is security. Monzo stands up to the highest standards of a bank account, even if it's a mobile-only one:
Fingerprint login
A choice of preferred login method: a password or a fingerprint.
Real-time account notifications
Users receive instant push notifications after all account activity, keeping them informed about the status of their account and their funds.
Card blocking / unblocking
Monzo app to control everything about your card. From changing your pin to freezing it if it gets lost.
Banking License
Monzo has a banking license and is protected by the Financial Services Compensation Scheme (FSCS), meaning that the customers' money up to £85,000 is secure and refundable.
Using Monzo App Abroad
Monzo debit cards are free to use for purchases abroad and you don't have to notify your bank's financial control. Any point of sale transactions, as well as online payments outside of the UK are free of charge.

Regarding the ATM withdrawals overseas, there is a £200 a month fee-free limit, with a 3% fee applied to any withdrawals after that threshold. However, there's still a chance to be charged by the ATM's owner, but it is out of Monzo's control.
A handy Monzo feature though is that you can control if you have any fee-free allowance left within the app, in order to avoid the overspending while abroad.

All foreign currency transactions are made according to the current Mastercard exchange rate, based on the live market.
Monzo Support
Monzo's customer support is available 24/7 over the phone, email and live chat. In addition, there is a FAQ and forum with most popular questions and answers available on the official website, and from within the app.
Pros
Free cash withdrawals in GBP
Free payments abroad
Overdrafts and loans facilities are available
Cons
Only available to UK residents

GBP only account
Conclusion
Monzo is one of the main banking sphere disruptors, being the fastest growing bank in the UK while having zero branches. And it seems pretty natural since they manage to keep all the regular bank's security and features, while offering a faster, seamless banking experience, and charge you less for it.
Monzo' overall package is pretty good, but some of its greatest advantages, like account approval without a credit check, are leveled with limitations: It perfectly works for a UK resident, but for traveling and wider European use, you have to look elsewhere, like N26 or Monese.