Key Features
Spend, withdraw and transfer directly from the app
Invest cryptocurrencies straight from the app
Revolut Review
Introduction
Revolut is a UK-based fintech company offering mobile-only banking services, including a prepaid debit card, currency and cryptocurrency exchange as well as peer-to-peer payments. The mobile app supports spending and ATM withdrawals in 120 currencies and money transfers in 29 currencies. Revolut sports a zero fee policy for most of its services and uses interbank exchange rates for currency exchanges.
Debit Card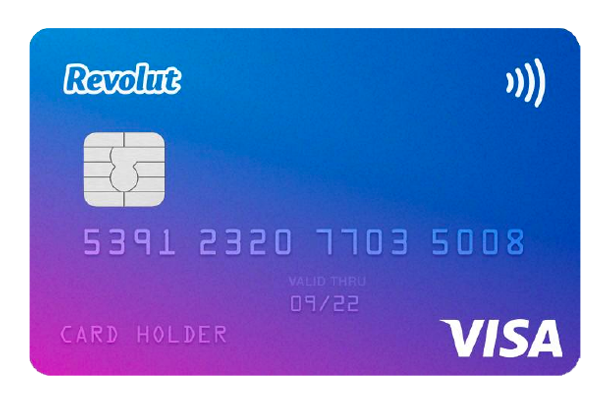 Plans
Free Account
Plans from €6.99/m
TrustPilot
Opening a Revolut account is relatively simple. Once you have downloaded the app from the App Store or Google Play, verify your identity and proof of residence, add funds to your account by bank transfer or card, then order your new Revolut card.
Revolut's services are available to residents of the European Economic Area (EEA), Switzerland, and Australia, with plans for further expansion. In early 2019, Revolut announced it had over four million users.
Banking Features
Analytics
Set and manage your budget and sub-budgets.
Budgeting controls: once you set up a budget, Revolut will automatically track progress in real-time, making sure you do not exceed your spending targets.
Divide your monthly budget over specific categories and let Revolut alert you when you're close to reaching the budget limit.
Cards
Order a Revolut card to fully benefit from all of its features. Depending on your account, you can order different cards with which you can pay online but also in-store.
Location-based security
Automatically block payments made from any other location than yours.
Cryptocurrency
Exchange any of the 29 available currencies directly into up to 5 supported cryptocurrencies.
Real-time rates and price alerts.
Instantly transfer supported cryptocurrencies to other Revolut users – for free.
Vaults
An easy and fast way to work towards your financial goals.
Set up in seconds, name it, attach a saving goals and turn on the spare change feature for starters.
Round up payments to the closest whole amount and store the difference.
Set up a recurring payment straight into your Vault.
Use spare change vault payments to automatically buy and store cryptocurrencies.
Mobile phone insurance
Instant, global coverage against accidental damage from £1 a week.
Overseas medical insurance
Geolocation technology ensures you only pay for days spent abroad, with medical and dental coverage from £1 per day.
Accounts:
When registering, you create a default account based on the currency used in your geographic location. Including the default account, you can create up to 24 separate accounts for different currencies.
Payments:
Pay, share bills with your contacts, transfer money.
Split bills with any of your contacts.
Transfer money globally, with low fees and the interbank exchange rate.
Schedule recurring payments.
Payment links for sending or requesting payments.
Freeze/Unfreeze your card:
In case of a lost card, freeze it in the app. Unfreeze it again when you find it, or report it as lost and get a new one.
Security settings:
Easily adjust what your card can do from the app, i.e. contactless and swipe payments, ATM withdrawals, online transactions, et cetera.
Spend abroad:
In over 150 currencies with the interbank exchange rate, with a small 0.5% fee above the €6.000 per month mark.
Withdraw money:
€200 in international ATM withdrawals for free, with a 2% fee for excess amounts.
Note: Google Pay for Revolut is currently being rolled out in beta mode, which means it is not accessible to all Revolut users yet. Apple Pay for Revolut is not available.
Revolut Account Types
As a Revolut user, you can choose from three different personal account types and another four business account types to choose from.
Personal account types
| | | | |
| --- | --- | --- | --- |
| | Standard | Premium | Metal |
| Price per month | €0.00 | €7.99 | €13.99 |
| Free UK current account | ✓ | ✓ | ✓ |
| Free Euro IBAN account | ✓ | ✓ | ✓ |
| Spend in over 150 currencies at the interbank exchange rate | ✓ | ✓ | ✓ |
| No fee exchange in 29 fiat currencies | up to €6,000 p/mo | No monthly limit | No monthly limit |
| No fee on ATM withdrawals | Up to €200 p/mo | Up to €400 p/mo | Up to €600 p/mo |
| Overseas medical insurance | X | ✓ | ✓ |
| Delayed baggage & delayed flight insurance | X | ✓ | ✓ |
| Global express delivery | X | ✓ | ✓ |
| Priority customer support | X | ✓ | ✓ |
| Instant access to 5 cryptocurrencies | X | ✓ | ✓ |
| Premium card with exclusive designs | X | ✓ | ✓ |
| Exclusive Revolut Metal card | X | X | ✓ |
| Disposable virtual cards | X | ✓ | ✓ |
| LoungeKey Pass access | X | ✓ | ✓ |
| Cashback | X | X | ✓ |
| Exclusive concierge service | X | X | ✓ |
Business account types
| | | | | |
| --- | --- | --- | --- | --- |
| | Freelancer | Start | Standard | Professional |
| Price per month | £6.99 | £25 | £100 | £1000 |
| Monthly incoming funds | Less than £100K | Less than £100K | From £100K to £1M | More than £1M |
A global business current account for easy international payments, with prepaid business cards and an Open API.
Revolut business accounts include the following specs:
Instant accounts: send, receive and manage your money in 29 currencies
Low-cost transfers: send money around the globe, without the rubbish exchange rate
Prepaid Corporate cards: easily track individual expenses
Virtual cards: manage payments for Amazon, Google, and Facebook ads
Revolut Connect: integrate apps like Slack, Xero and more
Flexible permissions: manage permissions for unlimited users
Open API: build custom integrations that meet your business needs
Priority support: dedicated team, 7AM to 10PM GMT
Scheduled & bulk payments
Data export to Xero for accounting
Fees
Revolut charges fees on several of its services, although these are generally low fees, especially when compared to the fees charged by traditional banks. Here is an overview of fees charged by Revolut, and under which conditions:
Currency exchange transactions exceeding the total amount of €6,000 per month are charged with a 0.5% transfer fee.*
ATM withdrawals exceeding the total amount of €200 per month are charged with a 2% transaction fee.*
Topping up: if you top up your account with a card not issued within the EEA (i.e. a US-issued card), a credit card, or a commercial card, Revolut may charge you a small fee to cover costs.
Weekend currency exchange fees: with foreign exchange markets being closed on weekends, Revolut implements exchange fees of up to 1.5% to cover the risk of currency fluctuations.
Card delivery fee: a card usually comes with a £4.99 delivery fee.
* Part of Revolut's fair usage policy
Security
Revolut's policies and procedures are designed to protect users' confidentiality as well as the security of their information, including their non-public personal information. Personal information is stored using third-party servers located in secure data centers protected by firewalls and a 'restricted access' policy, in compliance with applicable regulations. All data passed between Revolut's mobile apps, its servers, and third parties are 2048-bit SSL encrypted.
On top of that, Revolut employs several security settings that can be applied to each of your Revolut cards. Change these at will in the app's 'Cards' section.
Location-based security: when activated in the app, your phone's GPS location is used to determine if your card has been compromised and to prevent fraudulent transactions. In suspicious circumstances transactions will be blocked.
Magstripe Payments: magstripe card payments are generally considered unsafe. Disable this type of payment to help prevent your card from being cloned or used fraudulently. Chip and PIN methods, when available, are strongly preferred.
Contactless Payments: disable contactless payments in case you're not paying via contactless methods.
ATM Withdrawals: disable ATM withdrawals to prevent transactions being carried out at an ATM terminal.
E-commerce transactions: disable e-commerce transactions to prevent any payments being completed online.
Using the Revolut app abroad
Revolut aims to make traveling abroad as pleasant as possible for its users, enabling – in Revolut's terminology – "global spending and transfers without rubbish exchange rates". For users traveling abroad, Revolut offers:
Spend in 150 currencies at the interbank exchange rate (small fee for transactions above €/£5,000 per month).
£200 a month in international ATM withdrawals for free (withdrawals above £200/month attract a 2% fee).
Travel insurance from £1.00 per day.
Revolut Support
The Revolut Support Center consists of two main parts: Community and the Help Center. The Help Center is a searchable knowledge base that covers all aspects of Revolut's service, with an obvious special focus on the app, categorized into different sections, each covering a specific aspect of the service.
The community is a Q&A forum that has a number of conveniently chosen subcategories that make it easy to navigate, with additional options to check the latest posts, or the most popular ones. Getting information from other users can be of great help to someone just getting started. In any case, these two support pillars offer a lot of tips, tricks and general knowledge about Revolut's service and the app.
If you are still left with questions after checking the Support Center and the Community forum, you still have the option to contact Revolut's customer service. You can call them, but the In-App chat option is much preferred over the automated phone line. The chat is available 24/7, but since Premium users are entitled to priority support, waiting times could be longer than expected for standard users.
Pros
Very user-friendly and intuitive app

Fee-free exchange in 29 currencies up to €6,000

Manage up to 24 different currencies in your account

Option to purchase Cryptocurrencies

24/7 customer service via website or live chat
Cons
Weekend fees of up to 1.5% on currency exchanges apply

Foreign exchanges over €6,000 are charged with a 0.5% fee

Free cash withdrawals up to €200 p/mo, additional withdrawals charged with a 2% fee
Conclusion
Revolut offers a very solid app with a wide variety of great features. It is easy to use, works in a very intuitive way, and offers quite a few attractive hidden gems. You can purchase up to five cryptocurrencies straight from the app, using funds available in your account. Revolut values security and, besides encrypting data streams with state-of-the-art encryption, offers a very useful set of security features users can benefit from to keep their Revolut account safe and secure. Revolut is not a fee-free tool, but the fees charged are few and relatively low, and even fewer fees apply to premium accounts.